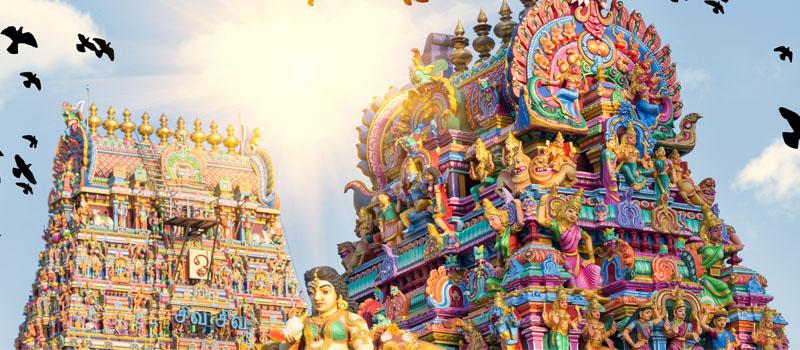 6 Nights / 7 Days
Flight Booking
Hotel Booking
Complimentary Break Fast
Car for trip
Tour Information
Some of the most famous Hindu temples dedicated to Lord Shiva and Vishnu spread across the state are covered, including Srirangam which is regarded as the biggest functional Hindu Temple around the world. The splendid beauty of South India completes this Tamil Nadu Travel Package in the form of healing Kutralam five falls and the mysterious Dhanuskodi, an abandoned town in an island city in Tamil Nadu.

A few UNESCO world heritage sites also form a part of this Tamil Nadu Tour Package. This tour is one of the best amalgamations of spiritual and the splendid side of South India!
Day 1 - Chennai – Kanchipuram

We start the spiritual tour to Tamil Nadu from Chennai where we first visit the Sri Kanchi Kamakshi Amman Temple and then the Nemili Sri Bala Peetam which is not actually a temple but a small house where Sri Bala idol decided to reside. The place is 24 kilometers from Kanchipuram.

You will be provided stay in a hotel before we move further.




Day 2 - Kanchipuram - Chidambaram - Kumbakonam

After a sumptuous and heavy breakfast, we will checkout from the hotel as we need to be geared up for a long day ahead. We visit the Chidambaram Thillai Nataraja Temple, a Hindu temple dedicated to lord Shiva as Nataraja or the lord of dance. Then we move ahead to visit the Thillai KaliAmman Temple in Chidambaram. The temple has a special significance for people born under 'Magam' star and is regarded very auspicious for them too.

The next in line is the Tirunallurpperumanam Temple, known for its beautiful architecture. It is also regarded as one among the 275 Shiva Sthalams.

The rest of the day is spent visiting Sarangapani Temple, AdiKumbeswarar Temple and Airavateswara Temple, all of which are in and around the Kumbakonam district only. The Sarangapani Temple is a Hindu temple and is dedicated to Lord Vishnu; Adi Kumbeswarar is dedicated to Lord Shiva where he is worshipped in the form of Adi Kumbeswarar and is represented by the Lingam. And finally, known for its Dravidian architecture is Airavateswara Temple which is also a UNESCO world heritage site.

To conclude the day, we get a comfortable overnight stay in a hotel in Kumbakonam.




Day 3 - Kumbakonam (Excursion to Navagrah Temples)

We have an early breakfast and get pepped-up for a long day of excursion to Navgrah Temple in Kumbakonam. As the name suggests, these are nine different temples that are dedicated to nine different zodiacs that are known to affect an individual's life.

The temples include ThingaloorChandran (Moon), Alangudi, Guru (Jupiter), Thirunageshwaram Raghu, SuriyanarkovilSuriyan (Sun), KanjanoorSukkran (Venus), VaitheeswarankoilSevvai (Mars), ThiruvenkaduBhudan (Mercury), Kelaperumpallam (Kethu) and ThirunallaruSani (Saturn).

Covering all of these temples in a day is definitely a hectic schedule and can have a toll on young children and elderly people. So if you are travelling with them, we can help you with a better planned excursion that is spread across 2 to 3 days.




Day 4 - Kumbakonam – Tanjore (Thanjavur)

We have a hearty breakfast and then checkout from the hotel to head towards Thanjavur. First on our list is the Brihadeeswarar Temple, also known as the Rajarajesvaram. It is a Shiva Temple that is located on the banks of river Kaveri. The temple is also a UNESCO world heritage site and one of the biggest temples in South India and popular in Tamilnadu tourism. It is also regarded as a finest example of Dravidian architecture.

We then visit the art gallery in Thanjavur that forms a part of Nayak Hall of the Royal Palace. The gallery houses some diverse bronze and stone idols from the Chola period that are definitely worth a spectacle. Finally, we visit the Saraswathi Mahal Library, one of the oldest libraries in Asia before calling it a day.




Day 5 - Tanjore - Trichy - Madurai

From Thanjavur, we drive to Trichy and visit the Srirangam city in Srirangam Island. It is famous for Sri Ranganathaswamy Temple which is considered to be the biggest functioning Hindu Temple around the world. The temple holds special significance for Hindus.

Next, we visit the Rock Fort, a temple complex that is built on an ancient rock that is 83 meters high. There are two Hindu temples inside it.

We then drive to Madurai, the temple city and spend the day at leisure. The day ends with a final visit to the Meenakshi-Sundareshwara Temple, more popularly known as Meenakshi Temple.




Day 6 - Madurai – Rameshwaram - Madurai

From Madurai, we drive to Rameshwaram and visit Sri Ramanathaswamy Temple, a Hindu temple dedicated to Lord Shiva and popular in Tamil Nadu Tourism as one of the twelve Jyotirlinga temples.. It is also significant because it is the only Hindu temple in India that has the longest corridor.

We then visit the famous Hanuman Temple, Sri Panchmukhi Hanuman mandir that has the legend of floating stones and Dhanuskodi, an abandoned town in Pamban Island in Tamil Nadu. With this, we conclude our day!




Day 7 - Madurai – Kuttalam - Madurai

On the final day, we visit the very famous Kutralam Five falls that are believed to have healing properties since their water flows through several herbal and medicinal plants. The falls have dedicated bathing areas for both men and women. Due to the number of waterfalls, cascades and health resorts in the area, Kuttalam is often called the spa of south India.

Post this, you can choose to visit the temples in the surrounding areas before you drive back to Madurai and get dropped at the hotel.



| DAY # | DESTINATION | TOURIST ATTRACTIONS COVERED |
| --- | --- | --- |
| Day 1 | Chennai – Kanchipuram | Sri Kanchi Kamakshi Amman Temple - Nemili Sri Bala Peetam |
| Day 2 | Kanchipuram - Chidambaram - Kumbakonam | Chidambaram Thillai Nataraja Temple - Thillai KaliAmman Temple - Tirunallurpperumanam Temple - Sarangapani Temple - AdiKumbeswarar Temple and Airavateswara Temple |
| Day 3 | Kumbakonam (Navagrah Temples) | ThingaloorChandran (Moon) - Alangudi, Guru (Jupiter) - Thirunageshwaram Raghu - SuriyanarkovilSuriyan (Sun) - KanjanoorSukkran (Venus) - VaitheeswarankoilSevvai (Mars) - ThiruvenkaduBhudan (Mercury) - Kelaperumpallam (Kethu) and ThirunallaruSani (Saturn) |
| Day 4 | Kumbakonam - Tanjore (Thanjavur) | Brihadeeswarar Temple - Art gallery - Saraswathi Mahal Library |
| Day 5 | Tanjore – Trichy - Madurai | Srirangam - Rock Fort - Meenakshi Amman Temple |
| Day 6 | Madurai - Rameshwaram - Madurai | Sri Ramanathaswamy Temple - Hanuman Temple |
| Day 7 | Madurai – Kuttalam - Madurai | Kutralam Five falls - Local temple visit - Departure |