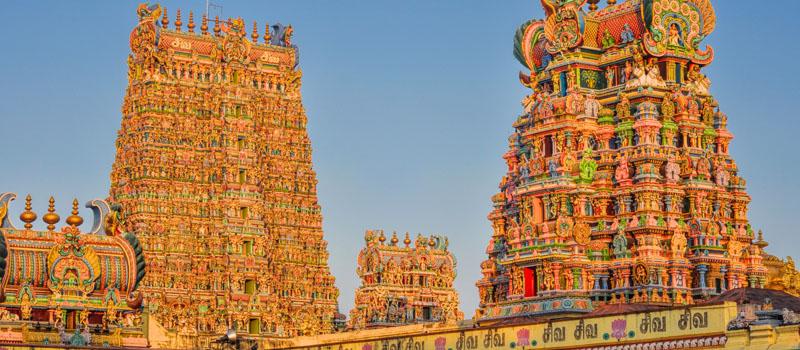 11 Nights / 12 Days
Flight Booking
Hotel Booking
Complimentary Break Fast
Car for trip
Tour Information
The tour covers five out of Six Abodes of Murugan, one Pancha (Five) Bootham (Elements) Stalam (Place), and various other important temples most of them dates back to several centuries old. No wonder for spiritual conquest, it is one of the best Tamil Nadu travel packages. The trips to eminent temples would expose you to all important spiritual destination of Tamil Nadu. Besides, you are visiting Tirupathi Temple located in Andhra Pradesh.
Day 1 - Trichy – Madurai

Your spiritual sojourn starts from Trichy towards Madurai. The city is one of many temple towns recognized by Tamilnadu tourism.

On the way, you'll stop by Alagar Kovil village (124 lm away from Trichy) where you will visit Kallazhagar Temple (6th–9th centuries AD) to have a 'darshan' of Hindu god "Vishnu". Then you'll proceed to get blessed at the Pazhamudircholai Murugan Temple. The temple is one of the Six Abodes of Murugan or Lord Muruga or Kartikeya. Then you advance to Madurai city, 40 min. drive from Alagar Kovil. You take rest in a pre-booked hotel.




Day 2 - Madurai

Wake up in the morning to witness, from the bed of your hotel room, the enchanting sunrise at Madurai, situated on the Vaigai River. The city is one of the oldest cities in India, a metropolis now, that at one time traded with ancient Rome. After a heavy breakfast, you'll go to visit Meenakshi Temple (also known as Meenakshi Amman Temple) that is dedicated to Meenakshi, a form of goddess Parvati and her companion, Sundareshwar, a form of Lord Shiva. The shrine is dated back to 6th century AD or before.

After our spiritual conquest in ancient temples of Madurai, you move to visit Thirumalai Nayakkar Palace situated only 1.5 km from the Meenakshi temple. The palace is renowned for the "Stuccowork" on its domes and extraordinary arches built in Indo-Saracenic architectural style. The 7th-century palace, a national monument, was erected in 1636 AD by King Thirumalai Nayak, a king of Madurai's Nayaka Dynasty.

Then you pay a visit to Vandiyur Mariamman Teppakulam. The grand holy pond complex built-in 1645 is associated with the Vandiyur Mariamman Temple. After getting through the reminiscence of the past glory you retreat to the hotel at Madurai.




Day 3 - Madurai – Srivilliputhur - Courtallam - Tirunelveli - Suchindram - Kanyakumari

The third day starts with our journey from one Temple City of Tamil Nadu (Madurai) to another Temple City – Srivilliputhur. The small municipal township is home to Srivilliputhur Andal temple.

After offering Puja at the Vishnu temple you head to Courtallam famous for its numerous waterfalls. It's time for you to have some "aqua–engagement" in this "Spa of South" and get cooled.

Then you go to 2000 years old city Tirunelveli where you would offer puja at Nellaiappar Temple dedicated to Lord Shiva. After that, you proceed to Suchindram where you may take the blessings of Hindu Trimurti (trinity) Brahma, Vishnu, and Shiva at the 17th century made Thanumalayan Temple.

After that, you leave for Kanyakumari, (Cape Comorin), the southernmost city of Indian peninsula to take rest.




Day 4 - Kanyakumari - Tiruchendur - Rameswaram

The day begins early, as you can't miss the spectacular sunrise. While at Kanyakumari, you'll see Thiruvalluvar Statue, Devi Kanyakumari Temple, and the very famous Vivekananda Rock Memorial. Then you drive to Tiruchendur where you visit Subramaniaswamy Temple. After that, you would proceed to Rameshwaram on Pamban Island and visit Dhanushkodi, an abandoned town at the south-eastern tip of the island. You can witness the origin of the legendary "Ram Setu"!




Day 5 - Rameshwaram – Pillaiyarpatti - Thanjore - Kumbakonam

The day starts with a 'darshan' at Ramanathaswamy Temple dedicated to Lord Shiva on Rameswaram island. It is also one of the twelve Jyotirlinga temples. After getting blessings from the Jyotirlinga (lord Shiva) you drive to Kumbakonam. On the way, you visit Pillaiyarpatti Karpaka Vinayakar Temple and visit Tanjore Big Temple (Brihadishvara Temple). The Brihadishvara Temple built between 1003 and 1010 AD is a part of the UNESCO World Heritage Site. Then you reach Kumbakonam, an ancient town christened as the "Cambridge of South India".




Day 6 - Kumbakonam – Chidambaram - Tiruvannamalai

At Kumbakonam, you get into the Sarangapani Temple for morning 'darshan' of Lord Vishnu. Then come the 12th century built Chakrapani Temple where you would offer prayer to Lord Vishnu who has a "third eye" just like lord Shiva.

After that, you proceed to visit Airavateshwarar temple located in the nearby Darasuram town. It is a UNESCO World Heritage Site along with the Brihadishvara Temple. Then visit Swamimalai Swaminathaswamy Temple at Swamimalai town which is one of the Six Abodes of Murugan.

From there you would drive to Chidambaram city to visit Nataraja Temple and Thillai Kali Amman Temple. The tour for the day ends and you drive to Tiruvannamalai city for night stay.




Day 7 - Tiruvannamalai - Melmalaiyanur - Kanchipuram - Tiruthani - Tirupathi

The city of Tiruvannamalai is situated in the foothills of Annamalai Hills. In the morning, firstly you would have a 'darshan' of Lord Shiva in the Arunachaleswarar Temple. Then you visit the famous Sri Ramana Ashram of the great spiritual leader Sri Ramana Maharshi. Spend your moments remembering the spiritual discourses of Sri Ramana.

After that, you drive to Melmalaiyanur where you pay a visit to have 'darshan' of Goddess Angalamman at the Arulmigu Angalamman Temple.

Then you would drive to Kanchipuram, one of the oldest cities that enhances the values of the Tamil nadu tourism. There you would pay visits to the 8th-century Kailasanathar Temple, Varadaraja Perumal Temple and Kamakshi Temple.

You'll leave the city and proceed for Tiruthani where you'll visit Thiruthani Murugan temple (one of the Six Abodes of Murugan). Then you'll call it a day and drive to Tirupathi, in the state of Andhra Pradesh.

Spiritual tour to tamil nadu also encompasses the very famous and the richest Temple of India at Tirupathi located in the state of Andhra Pradesh.




Day 8 - Tirupathi – Srikalaksthi - Vellore - Salem

You'll wake up in the morning to reaffirm your presence in the "Spiritual Capital of Andhra Pradesh". After refreshment and delicious breakfast, you start the day by paying a visit to Tirumala Balaji Temple to worship Lord Venkateswara, an incarnation Vishnu. The temple is located on one of the seven hilltops of Tirumala Hills.

After that, you proceed to Srikalaksthi Temple at Srikalaksthi town, 38 km from Tirupathi. Then you move to offer Puja to Sri Lakshmi Narayani or Maa Lakshmi, the Hindu "Goddess of Youalth" in the Sripuram Golden Temple located at Vellore in Tamil Nadu. This temple is gilded with 1,500 kg of pure gold, double the 750 kg gilding of the dome of the Golden Temple at Amritsar.

Then you drive to Salem that is located 230 km away from Vellore.




Day 9 - Salem – Namakkal - Tiruchengode - Coimbatore

On day nine, you'll first go to the noted 1008 Shiva Temple where you can worship 1008 Lingam at the same temple.Then you drive 54 km to reach Namakkal where you can visit Namakkal Anjaneyar temple dedicated to Hindu God Hanuman.

Our next move will be to Tiruchengode to worship Arthanareeswarar temple.The temple is dedicated to the unique half-male half-female form of Lord Shiva.

Then you drive to Coimbatore to visit Isha Adiyogi Statue at ISHA Foundation. The statue of Lord Shiva (Adiyogi) is recognized by the Guinness World Records as the "Largest Bust Sculpture" in the world. After that take rest in the hotel at Coimbatore.




Day 10 - Coimbatore – Pollachi - Palani - Trichy

Early in the morning, you visit Eachanari Vinayagar Temple and take blessings of Lord Ganesh there. After that, you drive to the Pollachi town, the 'Coconut Capital' of Tamil Nadu. Visit Masani Amman Temple and make your wishes granted!!!

Then you will proceed to Palani to experience the spiritual bliss at Arulmigu Dandayudhapani Swami Temple (one of the Six Abodes of Murugan). Then you get back to Trichy and go for sleep. Of course, before that, you could have mouth-watering gourmets at dinner.




Day 11 - Trichy

Wake up, refresh, breakfast and then another spiritual outlet in the form of Sri Ranganathar Temple located in Srirangam. Out of the eight self-manifested shrines of Lord Vishnu, it is the leading shrine.

Then you proceed to the very famous Jambukeswarar Temple, one of the five major Shiva Temples of Tamil Nadu (Pancha Bhoota Stalam in the Tamil language).

After that, you go to Samayapuram Mariamman Temple to worship Mariamman, a form of supreme mother Goddess Durga.

Our last visit will be to the Ucchi Pillayar Rockfort Temple, a 7th-century Hindu temple dedicated to Lord Ganesh. Have 'darshan' and 'puja' at the Ganesh temple and enlighten your spiritual being.

How can you forget your shopping needs? You can shop here till you drop...and then proceed to the hotel.




Day 12 - Trichy departure

The wonderful spiritual Awakening Tour ends here. Surely, you must have experienced spiritual bliss and other great learnings. Our expectation from the tour is to fulfill your expectation. We hope to be reunited with you with innovative Tamil Nadu tour packages that serve you even better, in the future.



| DAY # | DESTINATION | TOURIST ATTRACTIONS COVERED |
| --- | --- | --- |
| Day 1 | Arrival Trichy – Madurai | Alagarkovil - Kallazhagar Temple - Pazhamudircholai Murugan Temple |
| Day 2 | Madurai | Meenakshi Amman Temple - Thiruparankundram Murugan Temple - Thirumalai Nayakkar Palace - Vandiyur Mariamman Teppakulam |
| Day 3 | Madurai – Srivilliputhur - Courtallam - Tirunelveli - Suchindram - Kanyakumari | Srivilliputhur Andal temple - Courtallam Falls - Kasi Viswanathar Temple - Nellaiappar Temple - Thanumalayan Temple |
| Day 4 | Kanyakumari - Tiruchendur - Rameshwaram | Vivekananda Rock Memorial - Thiruvalluvar Statue - Subramaniaswamy Temple - Dhanushkodi |
| Day 5 | Rameshwaram – Pillaiyarpatti - Tanjore - Kumbakonam | Ramanathaswamy Temple - Pillaiyarpatti Karpaka Vinayagar Temple - Tanjore Big Temple - Tanjore Palace - Punnainallur Mariamman Koil |
| Day 6 | Kumbakonam - Chidambaram - Tiruvannamalai | Sarangapani Temple - Chakrapani temple - Darasuram Airavateshwarar temple - Swamimalai Swaminathaswamy Temple - Nataraja Temple - Thillai Kali Amman Temple |
| Day 7 | Tiruvannamalai – Melmalaiyanur - Kanchipuram - Tiruthani - Tirupathi | Arunachaleswarar Temple - Sri Ramana Ashram - Melmalaiyanur Arulmigu Angalamman Temple - Ekambareswarar Temple - Kailasanathar Temple - Varadaraja Perumal Temple - Kamakshi Temple - Thiruthani Murugan temple |
| Day 8 | Tirupathi - Srikalaksthi - Vellore - Salem | Tirumala Balaji Temple - Srikalaksthi Temple - Vellore Sripuram Golden Temple |
| Day 9 | Salem – Namakkal - Tiruchengode - Coimbatore | Namakkal Anjaneyar temple - Arthanareeswarar temple - Isha Adiyogi statue - Marudamalai Murugan Temple |
| Day 10 | Coimbatore - Pollachi - Palani - Trichy | Eachanari Vinayagar Temple - Masani Amman Temple - Arulmigu Dandayudhapani Swami Temple |
| Day 11 | Trichy | Sri Ranganathar Temple - Jambukeswarar Temple - Samayapuram Mariamman Temple - Ucchi Pillayar Rockfort Temple |
| Day 12 | Trichy Departure | Shopping - Departure |