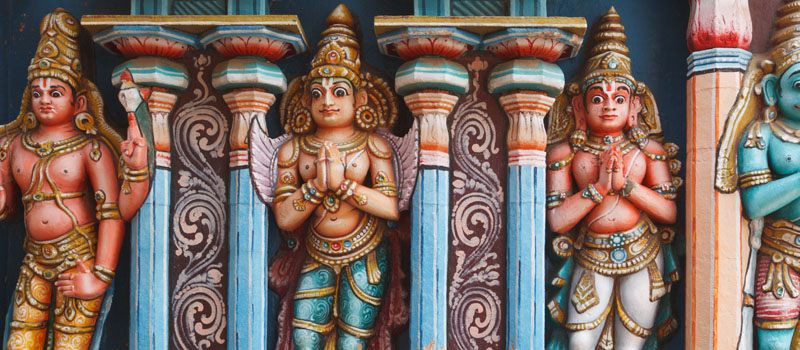 4 Nights / 5 Days
Flight Booking
Hotel Booking
Complimentary Break Fast
Car for trip
Tour Information
Let's get into depths to know the preserver and protector of the Universe. Let's get a deeper understanding of the sacred and holy places and their divine existence on earth. Let's learn our roles in preserving this Universe and making it a happier place to live in.
Day 1 - Trichy - Tirunelveli

After a small welcome to our tourists, we start our Spiritual Tour in Tamil Nadu along with our Tamil Nadu tour operators with Nellaiappar Temple of Lord Shiva in Tamil Nadu. Nellaiappar which is Shiva worshipped by is represented by the lingam and Parvati is depicted as Kanthimathi Amman. You can divulge in this holy beauty and in the local culture of the city enjoying shopping and mouth-watering delicacies.




Day 2 - Tirunelveli – Srivaikundam – Natham – Thirukolur – Thirupulingudi – Alwarthirunagari – Thirunelveli

We start our day with fresh zeal towards Srivaikuntanathan Permual Temple in Srivaikuntam which is dedicated to Lord Vishnu. This temple is associated with Surya (the Sun God), known as one of the Navagraha Temples.

We then head on to Vijayasana Vishnu Temple which represents Moon. After this, we start for Vaithamanidhi Permual Temple which is the eight temple of Navagraha temples dedicated to Mars. We then go to Thirupuliyangudi Permual temple, which is also classified as Divya Desams is one of the Navagraha temples.

The last stop for the day is Alwarthirunagari Permual Temple which is associated with Jupiter, the Guru is also one of the most prominent amongst Navagraha temples.




Day 3 - Tirunelveli - Thenthiruperai – Thirukulandhai – Tholavilamangalam – Tirunelveli

With a delicious and healthy breakfast, we step out to our first place of the day which is Sri Makaranetunkuzhaikkaadar Temple in Thenthirupperai, Tamil Nadu. It is the sixth Navagraha dedicated to Venus or Sukran and also one of the 108 sacred places of Lord Vishnu. We then head on to Srinivasa Permual Temple which is the temple dedicated to Saturn, one of the Navagraha Temples.

After it, we travel to our last place- Irattai Thiruppathy which are two temples of Nava Tirupathi, dedicated to Rahu and Kethu, amongst Navagraha temples.




Day 4 - Tirunelveli – Madurai – Trichy

Our first stop will be Thirupparamkunram Murugan Temple located near Madurai in Tamil Nadu. It is one of the six holy abodes of Lord Murugan. We then head on to Sri Meenakshi Amman temple of Goddess Parvati, known as Meenakshi which is located on the southern bank of the Vaigai River, Madurai.

After it, we travel to Trichy's Sri Ranganathar Swamy Temple which is the first and foremost of the eight self-manifested shrines of Lord Vishnu. We then move towards our last stop of the tour- Rock Fort Temple, Trichy in Tamil Nadu. It is a historic and ancient fort and temple complex which was built on an ancient rock. We then proceed towards our stay and call it a day.




Day 5 - Trichy Departure

We say goodbye to one another and a little hope for a Hello anytime soon.



DAY #
DESTINATION
TOURIST ATTRACTIONS COVERED
Day 1
Trichy – Tirunelveli
Tirunelveli – Nellaiappar temple
Day 2
Tirunelveli – Srivaikundam – Natham – Thirukolur – Thirupulingudi – Alwarthirunagari – Thirunelveli
Srivaikundam – Srivaikundam Perumal temple (Sun)
Natham – Vijayasaana perumal temple (Moon)
Thirukolur - Vaithamanithi Perumal temple (Mars)
Thirupulingudi – Thirupulingudi Perumal temple (Thirupulingudi)
Alwarthirunagari – Guru
Day 3
Tirunelveli - Thenthiruperai – Thirukulandhai – Tholavilamangalam – Tirunelveli
Thenthiruperai – Makara Nedunkuzhaikannan – Sukran
Thirukulandhai – Srinivasa perumal temple – Saturn
Tholavilamangalam – Irattai Tirupathi – Rahu & Kethu
Day 4
Tirunelveli – Madurai – Trichy
Tiruparankundram Murugan temple - Sri Meenakshiamman temple - Srirangam Ranganathar temple - Rock fort temple
Day 5
Trichy
Departure in Trichy